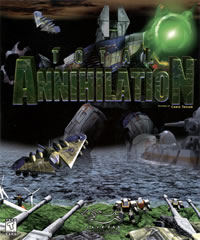 So the long, slow, hot days of Summer are upon us, what better time to listen to the latest show, where I cover:
Halo the movie … the Microsoft way or no way!
More Resident Evil movies planned.
World of Warcraft keeps growing and growing…
The Matrix Online … sold!
Don't buy this violent video game, even though it's not out yet and nobody has played it.
THQ to publish Supreme Commander, hell yeah!
Some interesting game releases this week.
GameTalk: How to get a job in the game industry — Part 2.
SporeTalk: So … now what?
Quicktake: Early impressions of Dungeon Siege II for the PC.
In-depth review of Kirby: Canvas Curse for the Nintendo DS.
RetroReview: Total Annihilation for the PC.
"Name That Game!" contest winner from last week, a new clip, and a new prize!
Plus some more random thoughts on playing older games.
Get the podcast from this page (87 minutes): Gaming Steve Episode 15.
You can also
subscribe to the weekly podcast
.