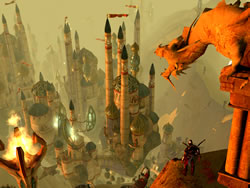 In the last Gaming Steve of 2005 I sit down with the Vice President of Big Huge Games, Tim Train (Civilization, Master of Orion, Alpha Centauri). Big Huge Games made the excellent Rise of Nations and is hard at work on the upcoming RTS
Rise of Legends
. In the interview we cover the game's unique setting, issues we both had with Alpha Centauri, how the RTS genre is evolving, playing Magic: The Gathering, how to balance a complex RTS, the very cool Rise of Legends single-player campaign, the why the director's cut of the movie Aliens really stinks. Oh yeah, and I also go over my best games of 2005. Enjoy!
Gaming Steve Episode 32 Program
00:03:14 GameTalk: Interview with Tim Train from Big Huge Games, the makers of the upcoming Rise of Legends.
01:13:41 Special Feature: The best games of 2005.
01:51:08 Final Thoughts on what 2006 will bring us and farewell until then!
Download the show (113 minutes): Gaming Steve Episode 32 (MP3).
Subscribe
to the Podcast directly in iTunes (MP3).
Add
the Gaming Steve Podcast feed to your RSS aggregator.
Vote
for Gaming Steve on Podcast Alley.