31
« on: February 18, 2010, 08:50:13 pm »
Well, as you may or may not have read, I am trying to outfit my Swim teams mascot in a nice little armor coating. Thing is, I want this to be the real deal, not some tacked on thing that looks bad. Thus I want to at least have some good sketches and designs for the person doing the metal work to go off of rather than just a verbal description.
Thing is, I can't do that.
So, maybe if someone here has the time or desire, you can?
Here is what I have in mind: I want this to look cool. Its an alligator, so he looks vicious already, but I was thinking perhaps some nice curved metallic spikes on his top? A helm that you can still see his teeth in (so, half on top of his mouth, half on bottom). And on his feet, I wouldn't mind the metal to make his claws look sharp and well, evil almost. The tail too, would need to be covered.
Anything somewhat similar to that vague description would be cool. Thanks a lot if you decide you wouldn't mind throwing your sketch out there. (Please make it as blueprint-like as possible, with measurements included please).
Pictures of the actual alligator, to you know, give you an idea of what it actually IS you're working with. Ogre: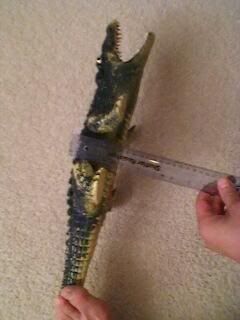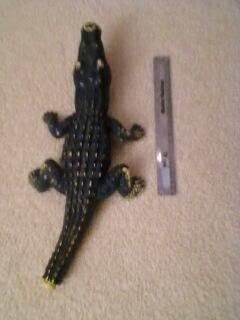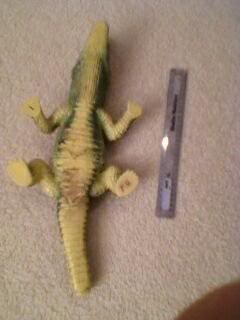 I will be able to get more, and better pictures on Monday or so. My friend decided to send me crappy phone pictures rather than get his girlfriends digital camera.