16
« on: July 16, 2009, 04:47:52 pm »
If you are tired of MMO's where you target a mob and then spam 124152352414, and where you don't care if you die, this game is for you.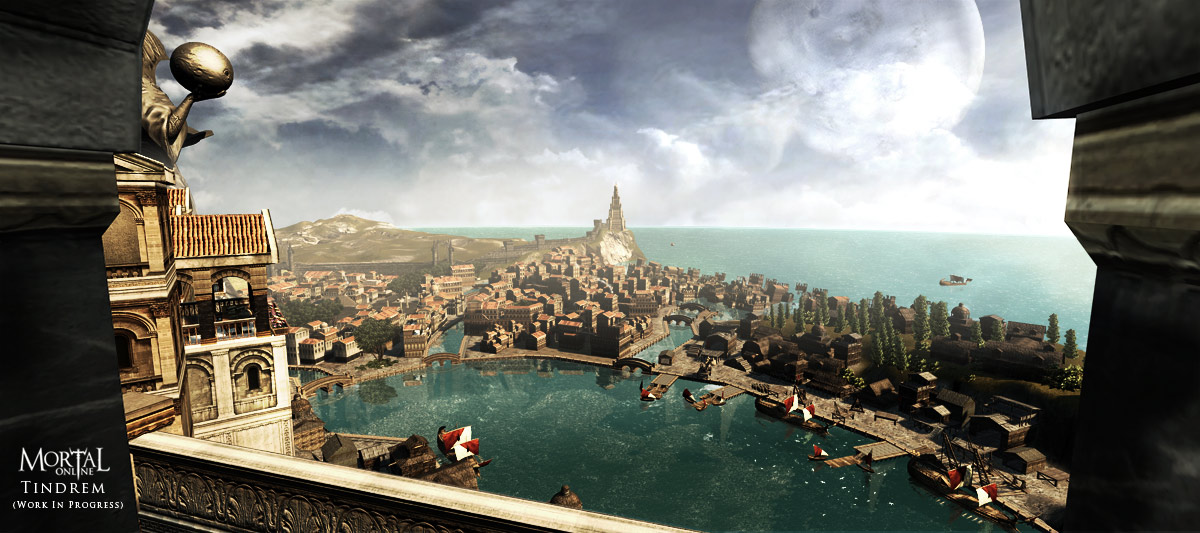 Mortal Online
(MO)
is fully first person. You see your legs, your arms, your body, everything. When you mount a horse you mount a horse, you see your body doing that, same when you get knocked back etc. The aiming is like an FPS, you do not target at all, where you aim you strike. Bows shoot in trajectories, the body of the players and mobs are divided into 10 hitboxes so you can specifically hit the head for more damage (especially if he isn't wearing a helmet) or for example hit the sword trying to disarm your opponent.
The game is full pvp and full loot. What does this mean? It means that when you strike a player or an NPC you do damage, there is no invisible shield that only goes away when you are in a certain zone. How is chaos prevented then? A person can be labeled as murderer (red) if they attack a good player or NPC (blue) or thief (gray) if they take something that is not theirs (mount standing around, stealing loot etc.). When marked as red or gray town and city guards will attack you at sight (these are like hard mobs, they do not kill instant and they do have a health bar), and any other player may attack and loot you without becoming evil. If you die as a red you will experience a slight skill decay, so attacking someone unprovoked will not be done without consideration. (Red and gray marks disappear after x amounts of hours in game without any further crimes committed though, and there have also been talks about a prison where you can serve your time).
What this game offers is freedom. There are no quests. Why? Well quests in MMOs are always basically kill 10 rats (there are FedEx missions to where you get this item there, but those totally suck), so why would someone need to tell you to do that? You can go anywhere at any time and do what ever you want, and there are no levels so you will not see such a huge disadvantage towards older chars, though player skill, in game skill and armor do matter a lot.
There is to much to mention about this game, and it is to late, but here are some more features;
When crafting a sword for example you first chose the shape of the blade (from something like 40 different) and the material of the blade (similar amount of different materials to chose from), then you make the hilt by deciding its shape from many different (something like 40 to I think), the material of the hilt and the material of the wrapping or whatever you call it that gives extra grip. This enables over 100 000 different weapons to be crafted (some very ineffective though, such as putting a hammerhead on a small hilt that would suit a dagger for instance). Each of these choices affect the stats of the weapon (for example a jade blade is sharper than an iron blade, but the iron blade is more durable so it wouldn't break as fast), but these are hidden from the players. Depending on the stats of the player he might see a swords as just an "Iron Sword" to a "Curved Iron Cutlass, Average damage, High speed, partly damaged". This type of prospecting applies to herbs and other types of gatherings as well, a bit like Morrowind and Oblivion.
Another interesting thing is their approaches to epic encounters, as they oppose having raiding instances that you play over and over again. One developer said something along the lines of "instead of having you kill the dragon 100 times and it might kill you 1 time, we will have the dragon kill you a 100 times and then when you kill it one time it is dead". That is right. The big monsters, tied to the lore, have perma death (except necromancers of course). Having these monsters killed can affect the game world, the developers are flexible with continuing building the game after how the players affect it.
Finally I just have to mention the housing system. You can build your house pretty much anywhere in the game world (I wouldn't be surprised if caves and such are excluded), and you can place it close to other players houses. You have a key that is the only way to get in to the houses, but if you die you drop it (the key won't have a label which tells the lucky looter which house it belongs to though). If you are a trader you can rebuild your house into a shop and hire NPC vendors that sell your goods. In this way cities built out of player housing become something positive for the players, so many will probably group up their houses in such a manner. If you have a guild and have a strategically placed house you can rebuild it into a fort and even a castle (sieging will be implemented after release, probably in some sort of free expansions as all expansions will be free).
Also, there is no map, and no GPS. You have to use a compass which is an in game item and the skill map making to create maps of your surroundings.
---
I could go on, but I have to go to bed now, here are some vids and pictures;
Races;
http://www.mortalonline.com/races
(There are 5 human races, 1 half-orc race (considered human), 2 elf races, and one dwarf race)
An interesting video (video is from the build made right before closed beta started, I think it was in April);
All of it is in game, there is a system for creating religions and praying to them. (It probably is just something that sends the message to the devs and they can respond however they like).
Other info; Uses Unreal Engine 3, Speed Tree, Grome 2, is made in Sweden by the company StarVault.
Beta starts 20th July, if you preorder you are guaranteed beta at some points (the beta is divided into blocks of 2000 players, so at first there are 2000 testers, then 2 weeks later when the next block is allowed beta access theres 4000).
I have preordered and I will play in block A, starting this Monday