1
« on: May 21, 2008, 04:24:40 am »
The Geskani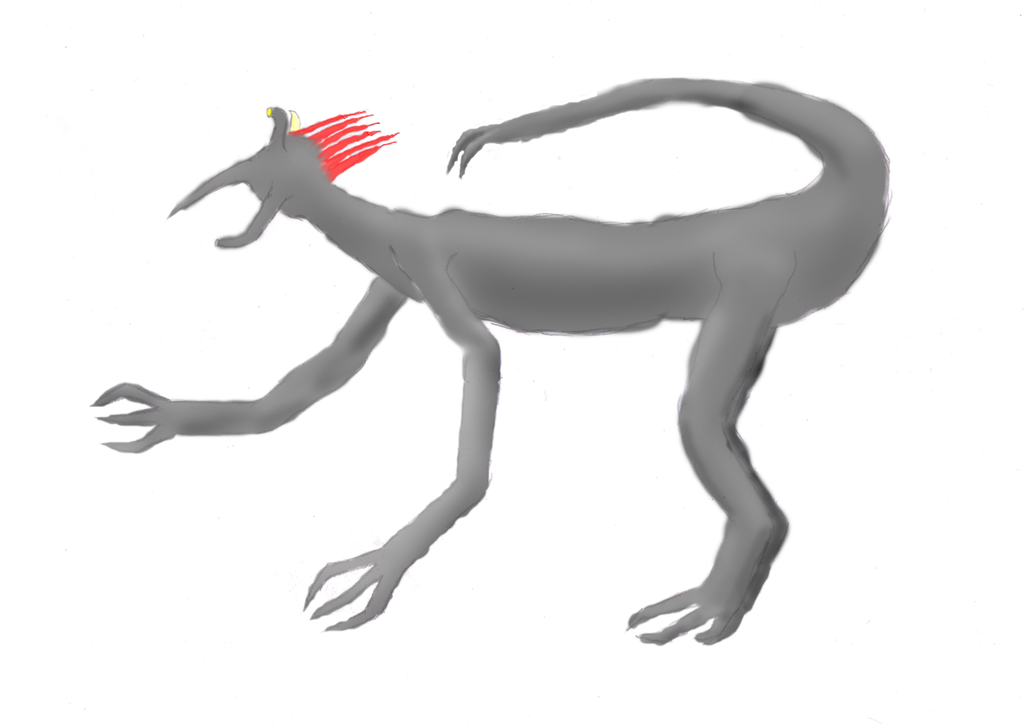 The Geskani, which hail from the planet of Ges, are a race of somewhat insectoid bloodsuckers. They are about 2 metres long. Socially, they are extremely close, with the group becoming more important then the individual. They suck the blood of other creatures through their probiscus. The tubes below their probiscus are used to spray an extremely powerful acid at their enemies, or, in the case of criminals, at locks. They have a strange way of communicating, in that they transmit radio waves through a small, freak organ in their horn, which is in turn picked up by the colourful head spines. They are extremely light, and can leap extremely far. This is especially evident on Ges, which a small planet with low gravity.
Government
The Geskani are currently ruled by a Tyrannical Dictator, the result of a cold war that suddenly turned hot. This same war united the Geskani as a species, as before then there were two competing nations, one being the Dictatorship that is in control now, and one being an Alliance opposed to the actions of the regime. The current dictator is known as Kani-Kan, which is translated as 'Person of the people'. While the regime is terrible, it prevents a revolution through manipulation of the fact that Geskani communicate through radio waves, namely by sending out pacifying signals, as well as controlling all space travel by only letting the Military and the Government own spacecraft.
Society
The Geskani see the community as important as, if not more so, then themselves. However, this does result in conflict between communities. Because of this, one in every thousand children born is taken away to be raised as a community leader. These leaders take care of their own communities, while avoiding conflict with others. They frequently get the pity of their fellow Geskani, as they do not feel the love from their community that every Geskani should feel, whereas the leaders offer pity to the members of the community, seeing them as being blinded by naivety and fanatical devotion.
The Geskani communities are often hostile to outsiders, whereas Geskani leaders are very diplomatic, and avoid conflict where possible. This results in a somewhat strange reaction to every single event, as there are always different groups, notably the communities and the leaders, along with a few others, that offer different, conflicting opinions, all of which are taken into consideration, as if a leader is hated by his community, they may see him as no longer part of the community, and act of their own accord.
Military
Around 1% of Geskani possess a mental 'deficiency' that prevents them from becoming a part of a community, preferring to move away from it. It is these Geskani that usually join the military. They are often far more intelligent and resourceful then the normal Geskani, but have troubles in normal social situations. However, with other Geskani afflicted by this, they have almost no difficulty communicating. The common name for this mental 'deficiency' is Corpse's Birthright, but this is a demeaning phrase, and is almost never said around members of the military.
The vessels owned by the military for use in conflict, known as Graveships, are fairly well armed. The recent war with the Alliance involved huge amounts of space combat, and military technology in that area sped forward rapidly. While they have a much more limited role in modern society, the sight of a group of Graveships entering the atmosphere and floating over a city has been known to avert many potential revolutions.
The military is also used as a transportation service. They transport Geskani that have been cleared for travel from planet to planet by the government.
As almost all soldiers suffer from Corpse's Birthright, they are very individualistic. However, training often instils a sense of unity in a group of soldiers, but the soldiers do not to be grouped with the same people, as would be the case with a community soldier.
It is not uncommon to see entire communities be drafted into the army in times of war. When the race is threatened, Geskani will have no problems joining together, as long as they have a fellow community member by their side.
Colonisation
Colonisation of new worlds is a four part process. The first part is the location and preliminary study of a planet suitable for colonisation. Once this is completed, the second part starts, and a colony ships sets out, and sets up a single city on the surface with multiple communities. The third stage is the scouting of the planet. A group of Geskani suffering heavily from Corpse's Birthright are sent out to travel as much of the world as they can, completely alone, for years, until the radio inhibitors placed in their head deteriorate, letting them become able to communicate once more. When they return, the detail all of what they have seen, experienced and learned to a colonisation official. The fourth part is the eventual colonisation of the entire planet.