16
« on: April 05, 2009, 02:31:34 am »
-You give the explanation yourself as to why it is not aluminum, in order for aluminum to change colour it would have to reach blast furnace temperatures, but you claim the temperatures were only 1100f, and at 1100f molten aluminum looks like liquid silver, it is very distinctly silvery looking.
Here you have aluminum at the temperature you claim the fires burned at <----> and here you have it at blast furnace temperature.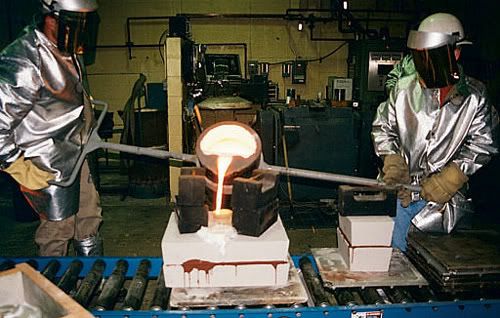 I believe the temperatures were at blast furnace+ degrees in those towers at some points in time, but thats because I believe thermate was used wich burns at extreme temperatures, but how would
you
explain the temperature being hot enough for the flowing molten metal to be aluminum ??
-Here is a clip from the Naudet brothers video in relation to the blown out lobby, this is 90+ floors below where the airplane hit, and please dont say jet fuel traveled down the elevators, the fuel burned off long before the heat could even remotely start to effect anything about the elevator cables or brakes, there are offcause many eye and earwitness reports that give alternate explanations, but since this was a deviation from the topic to begin with then I wont deviate any further unless we must.
-And again, the buckling of the exterior does not equal sagging floors heated by jet fuel, its an event that can be caused by many things.
-Im not sure how much clearer I can make it in regards to the report, the heat required to produce the residue found in the WTC dust is not consistent with a jet fuel fire.
-Concluding that the vietnamese started the war because they lived in Vietnam, is like concluding that the Iraqis started the present war because they live in Iraq, nonsense.
-Have you read any of the reports from the survivors ? here is a quote from one of them :"If it was an accident, it was the best planned accident I've ever heard of"
-How does "trading with the enemy in a time of war" not equal treason ??
Poised, do you honestly think any government is competant enough to cover someth

Heh that right there boggles my mind every day