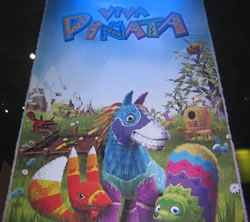 It's only day two of E3 and today I have a dynamite show! Not only do I co-host the show with
World of Warcraft Senior Level Designer John Staats
, not only do give you a blow-by-blow description of my Spore experience (along with a dozen other games), but I managed to score an interview with
Shane Kim, GM of Microsoft Game Studios
. All of this and it's only day two of E3. This is one for the record books. Enjoy!
Gaming Steve Episode 52 Program
E3 2006 Day 2 Recap

What's it like to build a creature in Spore? And is Will Wright actually giving the Spore demostration?
John and I give our impressions of Viva Pinata, Crackdown, Gears of War, Two Human, and Mass Effect for the Xbox 360.
Next John and I switch gears and give our impressions of God of War 2, Heavenly Sword, Resistance Fall of Man, and the overall Sony presence.
John and I next visit Bethesda and check out Star Trek Legacy, Star Trek: Tactical Assalt, and Pirates of the Caribbean Legend of Jack Sparrow.
Back to Windows Vista and how Windows is going to enhance PC gaming.
Finally I sit down and chat with Shane Kim and I wrap up the day's coverage (starts at 1:13:18).
Download the show (93 minutes): Gaming Steve Episode 52 (MP3).
Subscribe
to the Podcast directly in iTunes (MP3).
Add
the Gaming Steve Podcast feed to your RSS aggregator.
Vote
for Gaming Steve on Podcast Alley.