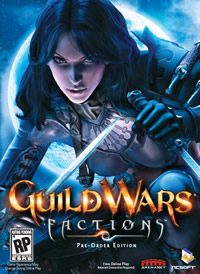 Today is the first day of the Game Developers Conference, but before I even set foot into the convention center I got a chance to sit down and chat with
Jeff Strain
, Co-Founder of ArenaNet and makers of
Guild Wars
.Jeff and I talk for over an hour and cover a huge number of topics. Find out how on earth they expect to release a brand new Guild Wars Campaign twice a year(!), more details on the technology behind ArenaNet, how they manage to continuously balance the game, Jeff's thoughts on various MMO subscription models, as well as much more. Enjoy!
Gaming Steve Episode 43 Program
00:02:28 Interview with Jeff Strain from ArenaNet, makers of Guild Wars and the upcoming Guild Wars: Factions.
01:07:19 My thoughts on the game and the upcoming Game Developers Conference 2006.
Download the show (74 minutes): Gaming Steve Episode 43 (MP3).
Subscribe
to the Podcast directly in iTunes (MP3).
Add
the Gaming Steve Podcast feed to your RSS aggregator.
Vote
for Gaming Steve on Podcast Alley.