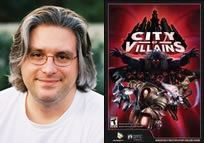 In this special Gaming Steve episode I sit down with Jack Emmert, aka "The Statesman", Creative Director of Cryptic Studios. In the interview Jack and I talk about
City of Heroes
and the newly released
City of Villains
(of course), the future of comics, what's next for Cryptic, Jack's favorite comics, and much more. Oh yeah, and we talk about the comic book classic Atari Force, enjoy!
Gaming Steve Episode 26 Program
00:03:59 GameTalk: Interview with Jack Emmert, aka "The Statesman", Creative Director at Cryptic Studios.
00:28:28 Show Mail: I answer your audio and email questions.
01:16:05 Final Thoughts on finding an Xbox 360, the PSP as a gaming platform, and where is the rest of the show?
Download the show (83 minutes): Gaming Steve Episode 26 (MP3).
Subscribe
to the Podcast directly in iTunes (MP3).
Add
the Gaming Steve Podcast feed to your RSS aggregator.
Vote
for Gaming Steve on Podcast Alley.